Scraps
A downloadable feel-good game
============================

After The Rupture, the world went silent for hundreds of years. The magnificent structures our ancestors built were taken over by nature.
At one point long after that, our great grandparents woke up from their slumber. As they raised once again to the surface, they slowly but steadily uncovered towering overgrown ruins among inconceivable creatures and plants.
With no recollection of what happened before their time, they started a new world.
A place of hope, peace, synergy and beauty.
Welcome to Ayera.
============================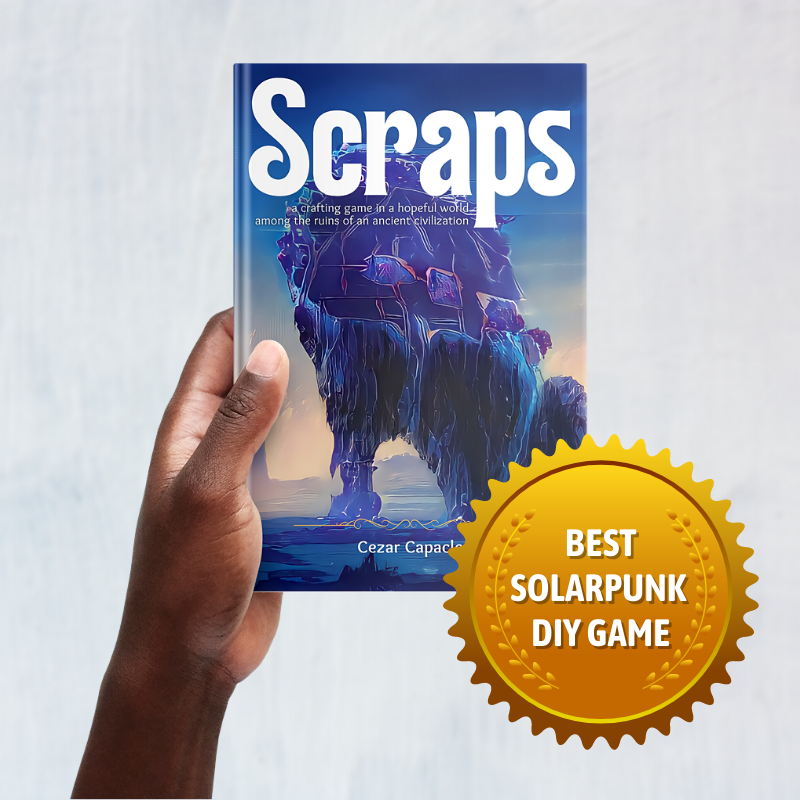 == You can find the French version here==
What is this game?
Ayera is a hopeful world built among the ruins of a long lost ancient civilization. It is a place of harmony and symbiosis, in which unimaginable flora and fauna is to be found by anyone who leaves their settlements and travels unexplored paths.
You are a Scrapper, an adventurer who devotes their life to exploring the land, finding special ingredients, bringing them back to their workshops, and crafting their wondrous personal and community projects.
Scraps is a feel-good game about sharing, about harmony with nature, about bewilderment and curiosity.
Some mechanics are inspired by Ironsworn, and it also uses polyominoes as part of the crafting aspect of it.
There are some cool Tetris and Battleship elements scattered throughout the rules.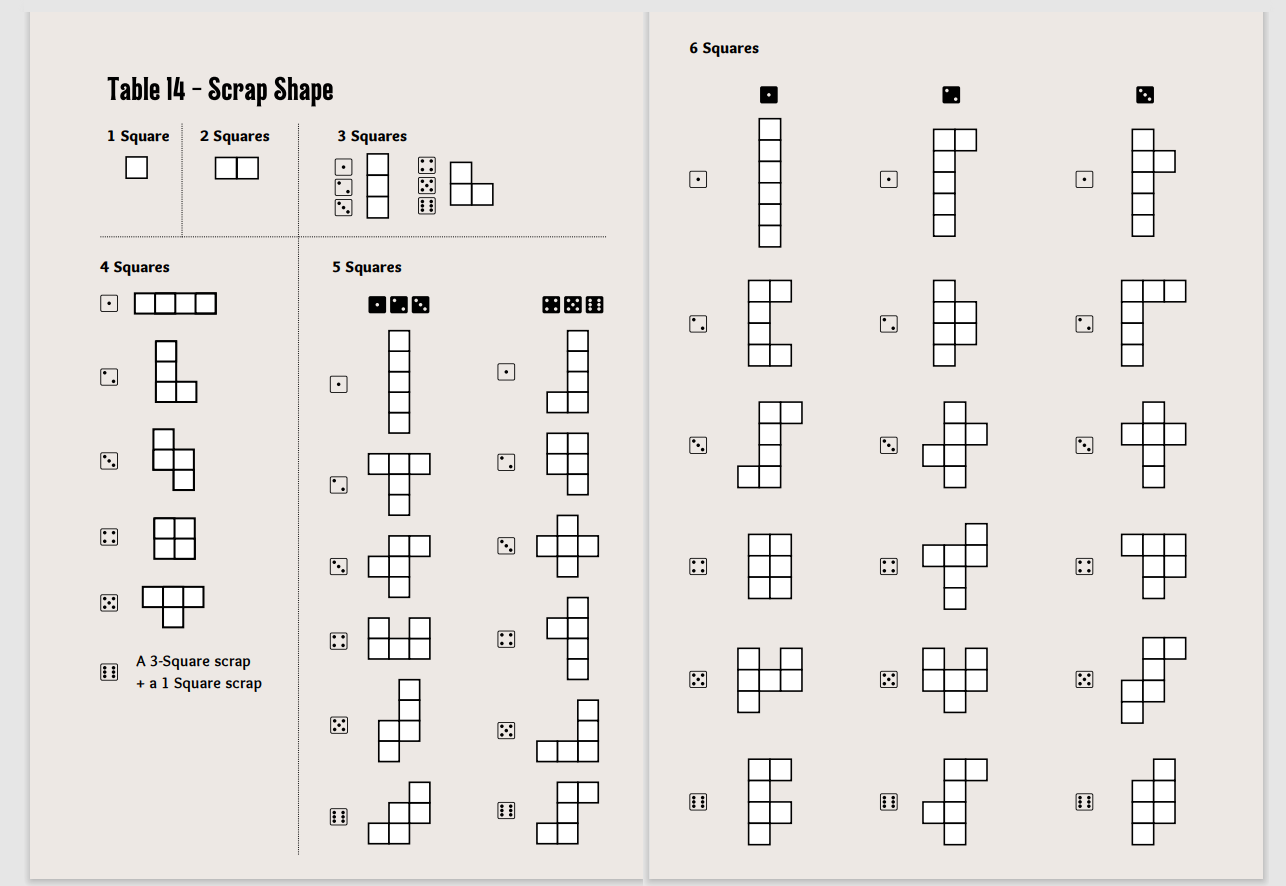 Here's a look at the character sheet: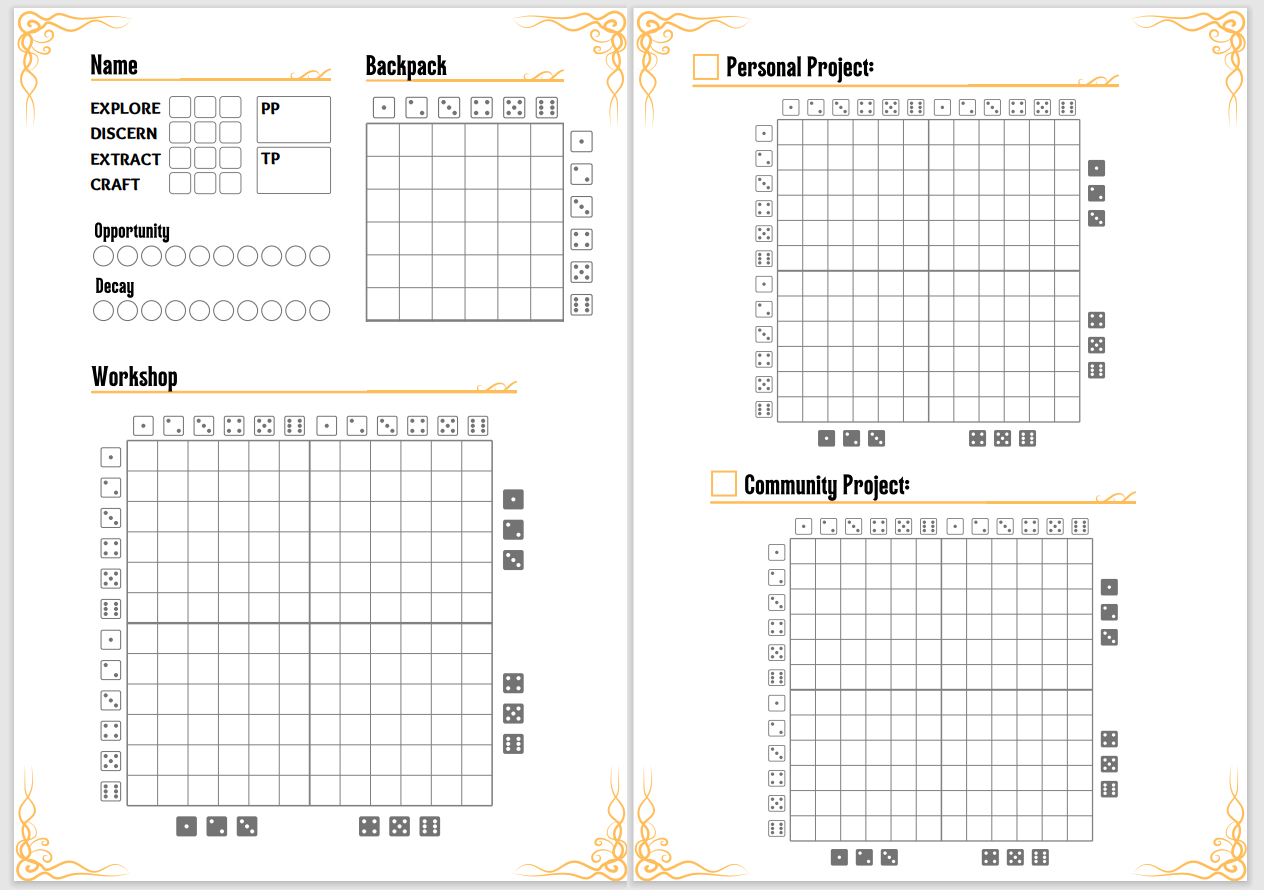 ============================
Core Premises
Strictly non-violent. There are perils, but they are never overcome with killing or harming anyone.
The projects you come up with do not imply expansion or "asserting dominance" over nature. There's no space for colonization or imperialism in this game. it is a world of symbiosis.
Gameplay works in phases. You generate a project to work on, plan your expedition, explore the wilderness in search of ingredients, bring them back home and craft your wondrous inventions. This is the loop.
You don't plan sessions or plots. Goals, terrain and obstacles are generated as you go.
The game relies on tables for random generation. You roll from 1d6 to 4d6 to get a random result.

The game relies on moves

(move names are always underlined) to resolve what happens when your character takes action. Most moves are mandatory, and the text establishes that by saying "You must". Other moves are optional, as they read "You may".
If your character does something that is not covered by a move, there's no dice involved.
============================
Your purchase includes:
Booklet version of the game, ready to print on A5 format
Character sheet and Project Blueprint sheets
Blank hex map for you to fill in your world as you play
Rules, tables, generators and everything you need to play
At-cost print-on-demand coupon for the physical book, both in paperback or hardcover
============================
Media coverage
A great 4-part play-through/explanation by Scott on Ithaquas Bane:
A written play-through on the Oracle of the Forge blog:

► This game was made possible by the support of my amazing patrons. Join today and get all my future games for free!
Purchase
In order to download this feel-good game you must purchase it at or above the minimum price of $14.90 USD. You will get access to the following files:
Character Sheet.pdf
185 kB
Scraps_paperback_PoD
External
Scraps_hardcover_PoD
External
Every purchase = a new community copy
Support this feel-good game at or above a special price point to receive something exclusive.
Community copies
If you're in need and can't afford a copy of the game, help yourself to a community copy.
• Every PDF sale adds 1 extra community copy