Kismet
A downloadable experiment
What is this?
Have you ever felt like running or playing an adventure module you found out there but you weren't in the mood to engage with all the finicky rules that come with it? You just wanted to roll your shiny d20 and enjoy the quest? Maybe the thought of learning a new system or converting it to your favorite ruleset seemed daunting? Or you couldn't be bothered to create a full-fledged character just to try it out?
Well, worry no more!
This ruleset was designed for you to play your fantasy adventures while blatantly ignoring every number that might have come with their systems. You can combine bits and pieces of all the games you like and not worry about restrictions, balance, mechanics (or logic).
You will need a single d20 to play and a copy of the character sheet. A single roll solves all kinds of conflicts you may encounter in the adventure. You can even play it solo if you want to.
What is included?
32-page fully bookmarked and illustrated ruleset
At-cost link to purchase the print-on-demand zine version
40-page expansion booklet with an extended example of play and optional rules
At-cost link to purchase the print-on-demand zine version of the expansion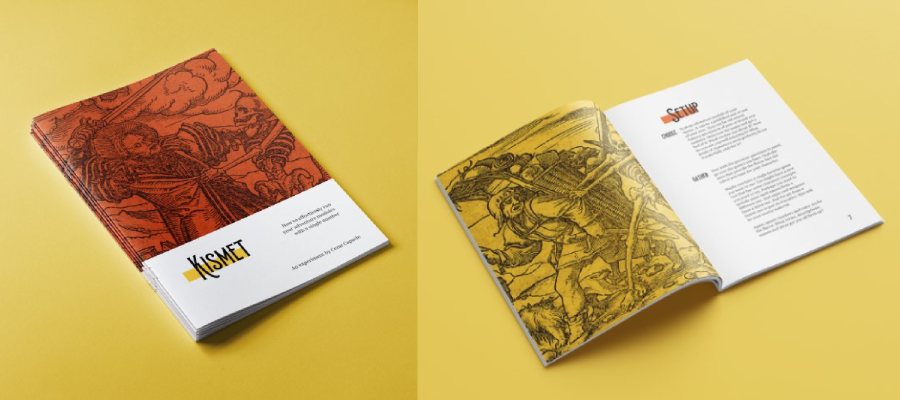 Media coverage
Check out this special episode of The Top Shelf by TPK Roleplay as they play a full session of Kismet. It was a lot of fun!
Here's a written actual play of Kismet in Spanish, using DCC level 0 characters, by Rol Con Cosas:
► This game was made possible by the support of my amazing patrons. Join today and get all my future games for free!

Get the game here!
Get exclusive access to this experiment by purchasing while quantities last.
Full game + Print on Demand + 1 Community copy
Choose this option to get:
Full game in PDF format
Character sheet
Print-on-demand at-cost link for the saddle stitch zine version
Create +1 Community copy
Community copies
If you're in need and can't afford a copy of the game, help yourself to a community copy.
You will get access to the following files:
Kismet_character-sheet.pdf
47 kB
Kismet_at-cost_PoD_saddle-stitch
External
Kismet_expansion_v101.pdf
12 MB
Kismet Expansion_at-cost_PoD_saddle-stitch
External