ADRIFT
---
That's when you felt the explosion.
You never saw it coming. You were out there, busy with minor repairs.
In a split second, your body was sent spinning into space.
---
What is this game?
Adrift is a solo game about inevitability, about grief and belief.
You play an astronaut lost in space, reflecting on your actions as you see your oxygen levels deplete.

You know what's going to happen, it's just a matter of time. The only hope you have is coming to terms with your inevitable death and finding some sort of silver lining amidst hopelessness.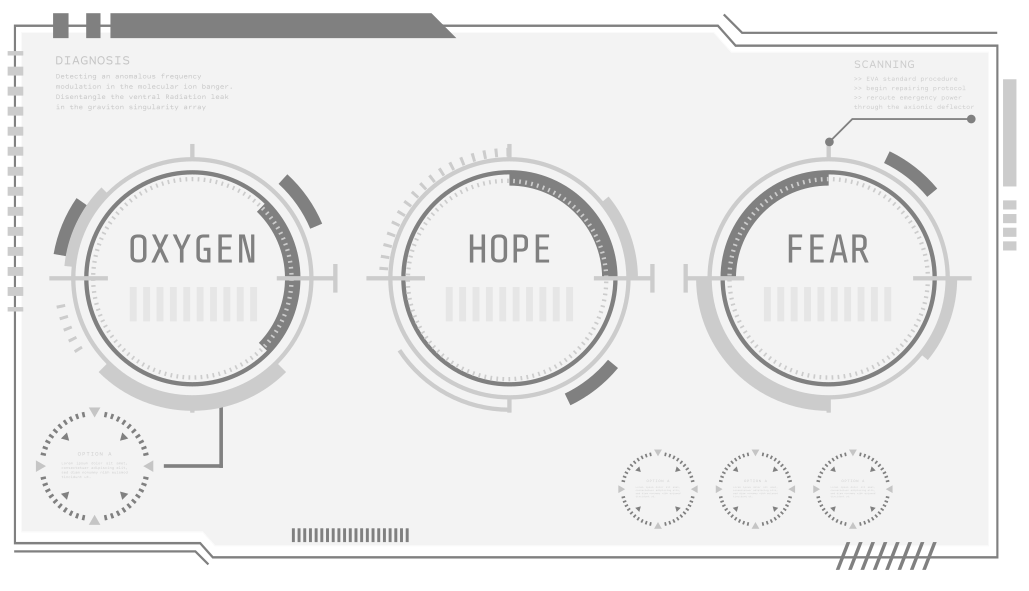 ==============================================
Your purchase includes:
Booklet version of the game, ready to print on 6'x9' format
Web version, if you prefer to read the PDF on your device
Rules, designer's notes and a minimal character sheet to keep track of your Oxygen, your Hope and your Fear.
This game was originally created for the "Your Move" game jam, hosted by transistence, Meguey & Vincent Baker from September 1st to September 9th, 2019 on itch.io.
► French version available here
==============================================
Media coverage
Actual play by The Maddest Sailor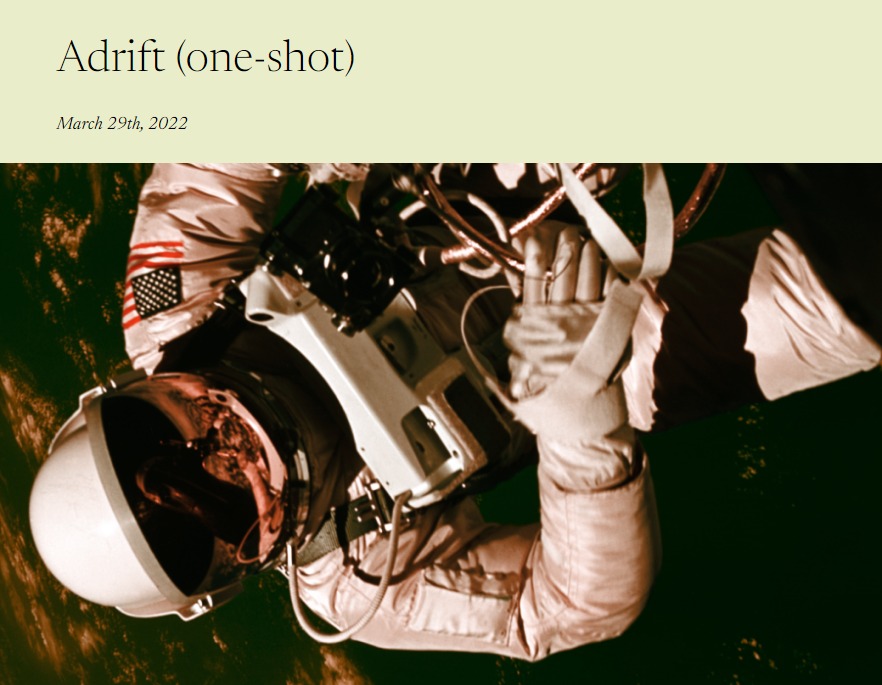 Actual play by Sozinho, mas bem acompanhado (in Portuguese)

Actual play by Tommaso Battimiello (in Italian)
► This game was made possible by the support of my amazing patrons. Join today and get all my future games for free!

Purchase
In order to download this solo game you must purchase it at or above the minimum price of $5.90 USD. You will get access to the following files:
Exclusive content
Support this solo game at or above a special price point to receive something exclusive.
Community copies
If you're in need and can't afford a copy of the game, help yourself to a community copy.
• Every PDF sale adds 1 extra community copy
Comments
Log in with itch.io to leave a comment.
What, what! Your game is proudly residing on GoodReads now.
Just finished my first playthrough, that was quite an emotional experience! I dabble in creative writing now and then, there's something about the mechanics of this game that made the words flow. I was surprised at how quickly my character's life and mindset took shape, prompt by prompt. Thank you!
Thank you for reporting back, it means a lot to me! If you ever publish your playthrough, I'd love to read it.
Thank you very much for the experience. I was genuinely fond of having Fear and Hope as a mechanical device, because it set the experience apart from journal-style games where you'd have to construct that narration on your own. It gave me guideposts and a tone to listen for when progressing through the game.
You've met and exceeded your goals of "making the move be the game" in doing that. And the prompts' escalation when you work down the tables brought home the sense of at least trying to come to terms with your fate. You crossed that finish line, too, and then some.
If you'd like to see someone's experience with your system, here's a link to my actual play blog: https://themaddestsailor.wordpress.com/2022/03/29/adrift-one-shot/
Thank you so much for your kind words and for the actual play. That was a powerful read!

Would you mind if I linked to it on the game page itself?
Hello
I just finished a translation of your game Adrift in French.
It's available on my blog at http://www.jeepeeonline.be/2019/10/a-la-derive-version-francaise-du-jeu-de.html
Really a very good game, Gravity-like. That inspires me for a game, still a project in my mind, about the survival in a hostile space environment or planets like Mars, reference to The Martian by Andy Weir.
Thanks for this great game !
jeepee
Hello!

Sorry I missed your comment! I'm really glad you liked it and even more that you translated it into French!

Merci beaucoup!
Hi
Your solo rpg is very funny but also a little bit desperating :-)
I'm working on a translation in french.
Would you agree that I post this translation on my blog?
Of course, your name would appear on the cover and in the credits.
Thx
Regards,
JeePee