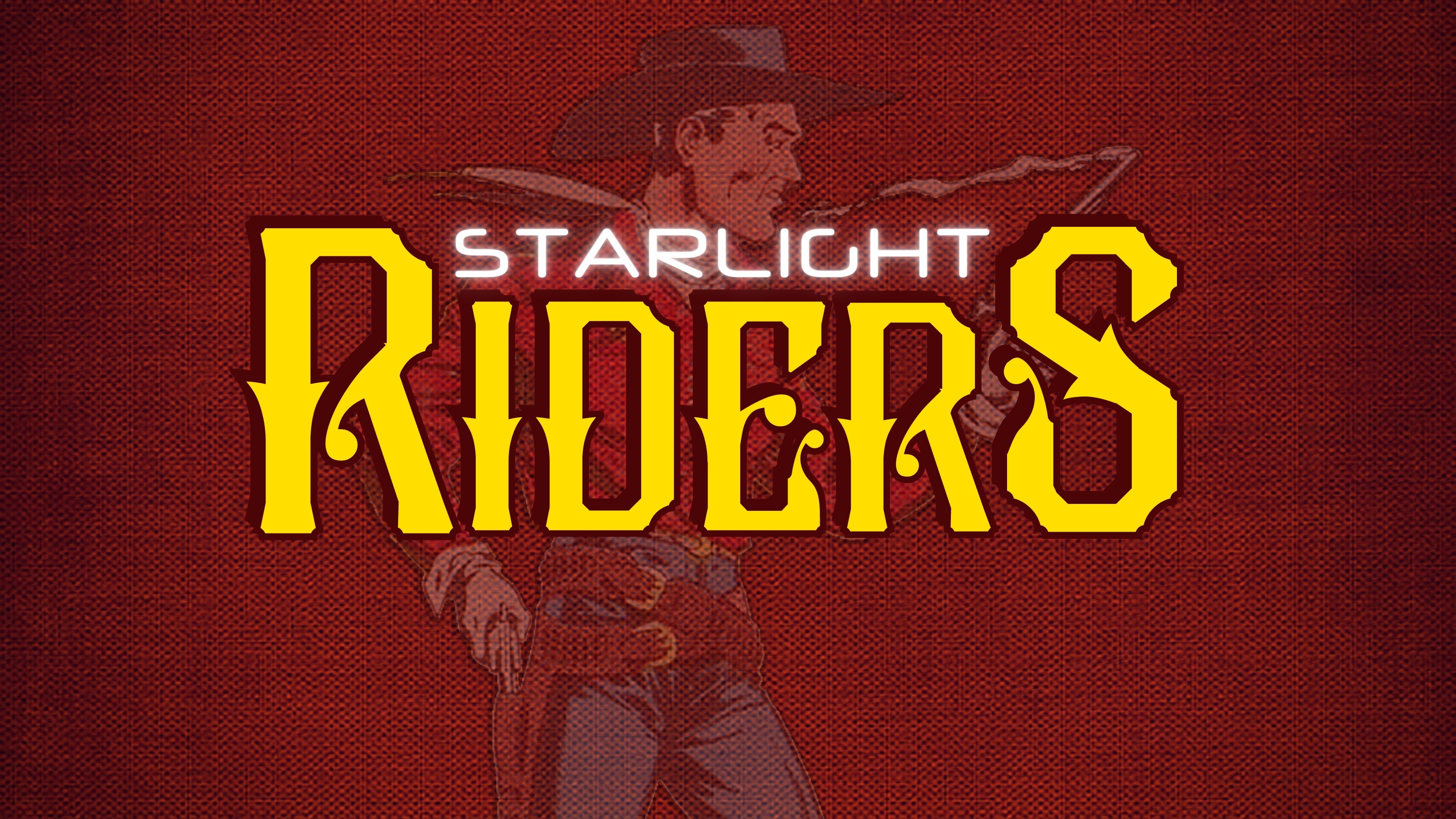 Starlight Riders
A downloadable card-driven RPG
✯○✯○✯○✯○✯○✯○✯○✯
When they left Earth long ago, they said that we wouldn't make it.
That we weren't worth it. But guess what? We made it.

And from the fringes of the galaxy, we make it a point to let them know that.
Disturbing their little plastic paradise.

If we can't bring them down, we sure as hell can make them mad.
And, you know, get some form of compensation.

We are not stealing. We're taking it back.
✯○✯○✯○✯○✯○✯○✯○✯

Starlight Riders is a fast-paced, card-driven space western RPG about heists through the galaxy. You play as a bunch of outlaws, fighting against an oppressive system that took all you had. It's your role to tip the scales back in favor of the forgotten.
The game was designed to be played as a single session (one-shot), but there's also a campaign mode for longer adventures. With a custom deck of cards and some dice, you sit down alone or with your friends, come up with a job, a team and run the heist! No prep, no GM, no paperwork.
Gameplay alternates roleplaying, card play and dice rolls to tell the story of extremely competent individuals striving to do what's right — even if it's not what's legal. You work together to overcome the obstacles between your team and the MacGuffin, while uncovering secret motivations and connections of each character.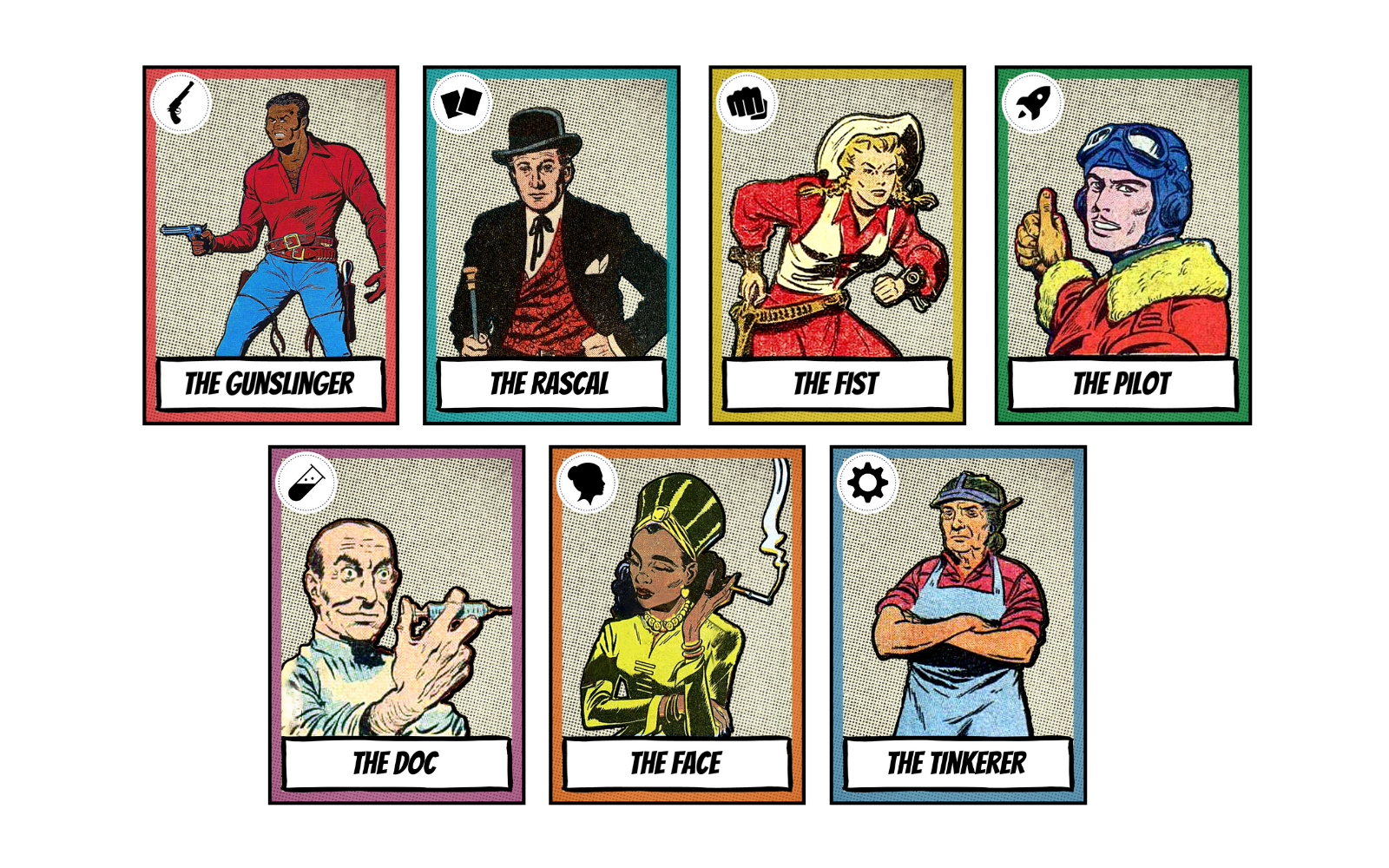 INSPIRATION
Starlight Riders draws inspiration from movies and shows such as:
Cowboy Bebop
Firefly
Ocean's Eleven
Mission: Impossible
Space Sweepers
Outlaw Star
Leverage
Mechanically, it owes tribute to:
WHAT YOU NEED TO PLAY
1-4 players
2-3 hours
Custom deck of cards
3 six-sided dice
Small tokens (beads, pennies etc.)

Some aspects of Starlight Riders gameplay that stand out are:
PICK UP AND PLAY: With an easy to grasp, custom system that combines dice rolling and card playing, you can sit at the table, read the rules and start playing in as little as ten minutes! It keeps the barrier low for newcomers, but with enough nuance and novelty to hook more experienced players as well.
SHARED CHARACTERS: That's right. Any player can control any character on their turn! You'll have a hand of cards with character skills, and depending on the options you have and the obstacle you are facing, you might choose to activate any character present in the scene. So get ready to share voices and accents (or not, no pressure).
NO MASTERS: This is a cooperative experience, so the game provides you with all the mechanics you require to experience a space western heist without the need of a director, referee or storyteller. It's everyone's job to equally contribute to the emergent story you'll put yourselves through. Make it a good one!
COMPETENT PEOPLE: One could argue that these characters are the best there is at what they do. Hence, dice do not decide whether you can do something or not. Rather, they tell you how effective you are and what the costs and consequences are for what you do. Everything you describe happens exactly the way you describe it. So be awesome!
PLAY THROUGH 'MOMENTS': Moments are the tropes we see in heist and western movies, such as high stakes poker table or laser-protected hallways or high speed chase. With a 3-act structure, as a group, you pick the Moment Cards you're interested in experiencing during Planning, Execution and Escape and you tell the story through those scenes! But it's not that simple...
COMPLICATIONS ABOUND: ...for when push comes to shove, you pile up Heat, that in turn becomes complications and twists! So yes, you'll get the thing, sure, but what kind of shenanigans you'll get yourself into?
WHY SO SERIOUS: Although the characters are ultimately fighting for something larger than themselves, this is not a gritty game. It is an action packed, humorous take on heists, with a band of lovable scoundrels as protagonists. Don't take it too seriously.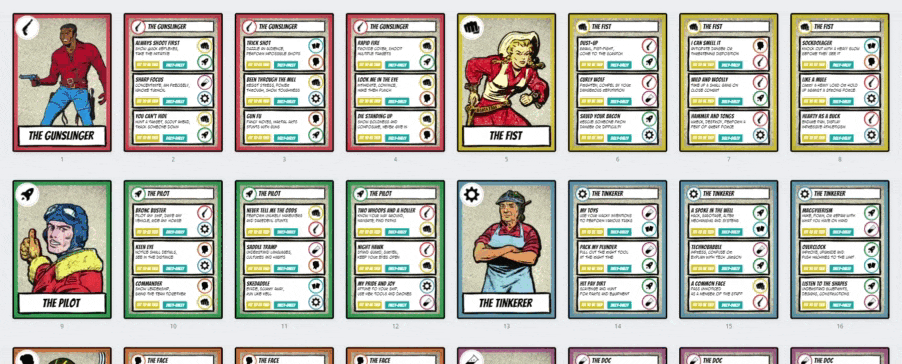 The game is avalilable in digital and physical formats! Your package includes:
PDF book: the complete game, fully illustrated, with all the rules, tables and tips you need to play.
Print-and-play cards: PDF file with all the cards used in the game, ready to be printed.
Print-and-play tokens: custom tokens to mark BEATS and HEAT
Printer-friendly cards: low-ink version of the cards for a lighter print.
Individual PNG cards: individual PNG image file for every single card, so you can upload and use it on your VTT of choice.
At-cost coupon for the PoD deck of cards: if you want the physical version of the cards, they will be available as print on demand, and you'll be able to buy it at cost.
At-cost coupon for the PoD book: full-color physical version of the book will also be available at cost as print on demand.
Custom playlist: hand-picked playlist with the best heist and space western songs to pump up your game.
My eternal gratitude: you're helping an independent designer buy groceries and keep the lights on.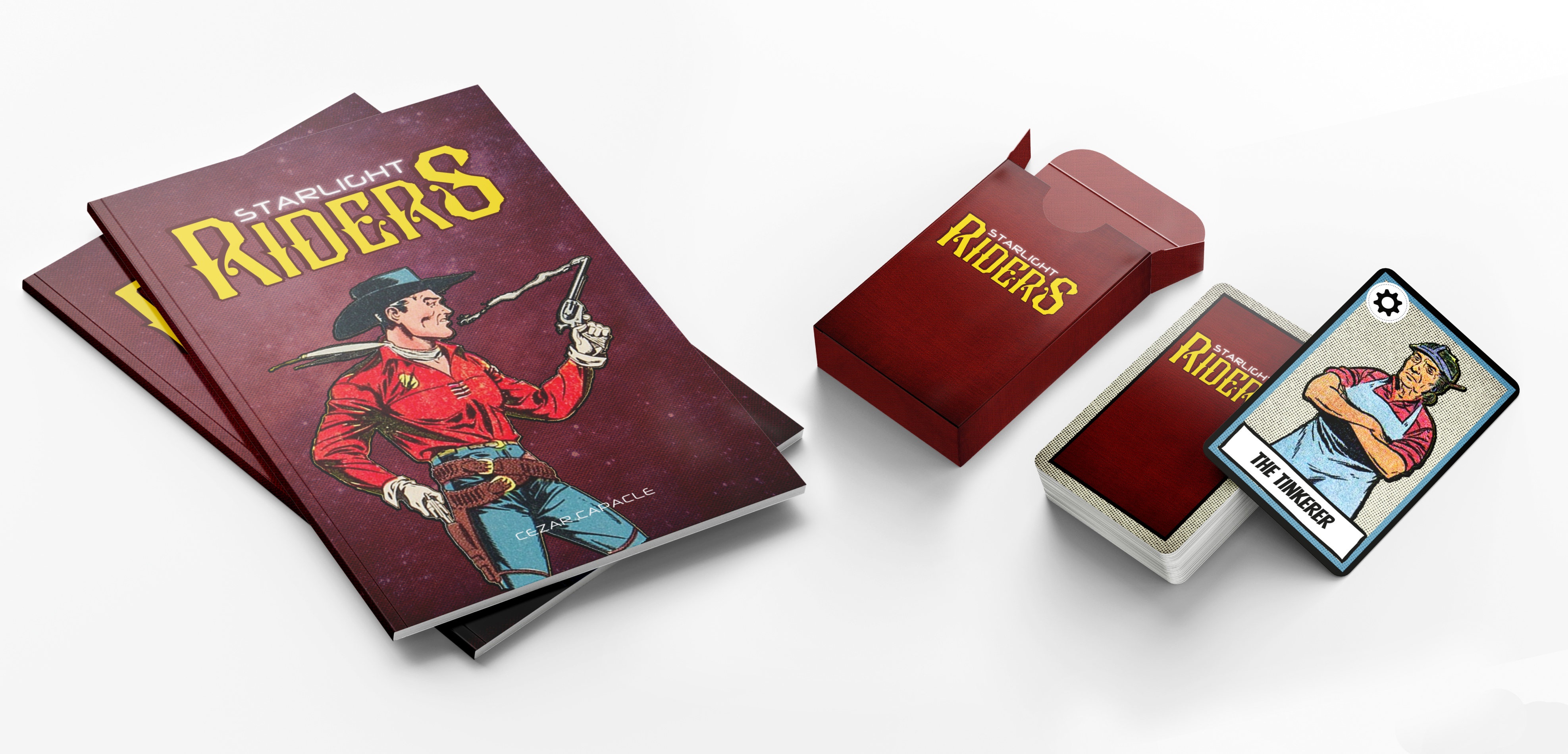 Why print on demand?
I'm in Brazil running a one-man show. Print on demand is currently the only logistically possible way I can make physical versions of my games. Bear in mind that you still have to pay the manufacturer for the base cost of the products should you choose to buy the physical copies. I can only give you a coupon for an at-cost price.
What are community copies?
For everyone that decides to buy the game at full price or above (that is, $19.90+), I'll add a free copy for people that are not able to afford the game at the moment. Every $5 above that creates yet another community copy!
What is this playlist you mentioned?
I've been collecting some great heist and space western instrumental music on a playlist on Spotify. You can check it out below and also leave your song recommendations on our community!
► This game was made possible by the support of my amazing patrons. Join today and get all my future games for free!

Purchase
In order to download this card-driven RPG you must purchase it at or above the minimum price of $19.90 USD. You will get access to the following files:
SR_Quick Reference Guide.pdf
1 MB
SR Cards_PnP_lo-ink.zip
18 MB
SR Cards_individual.zip
205 MB
SR Tokens_Pnp_lo-ink.pdf
18 kB
Special Options
Support this card-driven RPG at or above a special price point to receive something exclusive.
Community copies
If you're in need and can't afford a copy of the game, help yourself to a community copy.
• Every sale adds 1 extra community copy
• Every $5 above the suggested price creates yet another community copy!